Russia St Petersburg by train 3 days
Guaranteed departures – Gateway Finland-Russia
Combine Helsinki, the capital of Finland – Kotka City by the Sea – Lappeenranta Lake Saimaa and St. Petersburg, Grand City of the Czars
Visit beautiful St.Petersburg! There is plenty of historical sights, culture and shopping opportunities just over three hours train journey away from Helsinki. On our three-day journey you can experience all the main sights in the city, such as the Hermitage Art Gallery, St.Isaac's Cathedral, Peter & Paul Fortress as well as the golden fountains of Peterhof Palace.
We have guided tours for every day as Optional excursions. You can find the prices in our tour plan.
Wander around the city and along its canals, enjoying the sights, magnificent palaces and buildings dotted around the city centre. Pop in to one of the many affordable restaurants to sample tasty Russian dishes and look around some of the interesting museums this huge city has to offer.
We can book you tickets to opera, ballet, circus or football and ice hockey matches.
Discover Helsinki
and Suomenlinna in 5-hour tour with a professional guide. Price 150 €
You will visit the city's cultural landmarks and historic monuments and  Suomenlinna, listed as an UNESCO World Heritage Site.
Visit Helsinki's most famous sites,then continue to Seurasaari Open-Air Museum, located on an island outside the city center. Learn about the traditional Finnish way of life from 18th to 20th through a tour of the museum's manors and farmsteads.  Price 150 €
Explore the beauty of Helsinki by bus and by boat. Visit the Must see attractions with your guide in the morning and take popular boat sightseeing cruise in the afternoon to make your visiting most unforgettable. Price 170 €
Explore Helsinki in just three hours with round trip transfers from and to the airport. 75 €
Kotka City by the Sea
Situated only an hour's drive from the Finnish capitol Helsinki, Kotka is the unique beauty of seaside cities. Established where the River Kymijoki meets the sea, this city has long traditions in seafaring. Enjoy the loveliest parks, vibrant culture and beautiful sights!
Lake Saimaa
Combine your trip with a luxurious holiday in a beach cottage located on the shores of clear-water Lake Saimaa.
YEAR 2020
Dostojevsky***

By Allegro train
Departure:
Vainikkala
Kouvola
Lahti
Helsinki
Check rates for children from our office
27.3.
231
238
247
267
3.4.
245
254
265
291
10.4.
258
270
283
314
17.4., 24.4.
245
254
265
291
1.5., 8.5.,
290
301
314
345
15.5., 22.5., 29.5.
332
344
357
388
5.6.
332
344
357
388
12.6., 19.6., 3.7.
26.6.
600
537
10.7., 17.7., 24.7., 31.7.,
7.8., 14.8., 21.8., 28.8.
4.9., 11.9., 18.9., 25.9.

2.10., 9.10., 16.10., 23.10., 30.10.
6.11., 13.11., 20.11., 27.11.
4.12., 11.12., 18.12.,

31.12. 2 pv
Single supplement
10.1-14.5. 41 € / 1.-8.5. 58 € / 15.5.-11.6. 110 € / 12.6.-9.7. 230 € / 10.7.-1.10. 58 €
YEAR 2020
Catherine Art Hotel***

By Allegro train
Departure:
Vainikkala
Kouvola
Lahti
Helsinki
Check rates for children from our office
13.3., 20.3.
224
230
236
251
27.3.
238
246
254
275
3.4.
252
262
273
298
10.4.
303
315
328
359
17.4.
273
283
294
319
24.4.
277
287
298
323
1.5.
340
351
364
395
8.5., 15.5.
328
340
353
384
22.5.,
340
351
364
395
29.5.
328
340
353
384
5.6.
412
424
437
468
12.6.
675
19.6., 26.6.
585
3.7.
700
10.7., 17.7., 24.7., 31.7.,
7.8., 14.8., 21.8., 28.8.
4.9., 11.9., 18.9., 25.9.
2.10., 9.10., 16.10., 23.10., 30.10.
6.11., 13.11., 20.11., 27.11.
4.12., 11.12., 18.12.,

Single supplement
17.1.-2.4. 60 € / 3.4.-9.4. 71 € / 10.4-16.4. 84 € / 17.4.-23.4. 80 € / 24.4-30.4 96 € / 1.5.-7.5. 130 € / 8.5.-21.5. 141 € / 22.5-28.5. 130 € / 29.5-4.6. 141 € / 5.6-11.6. 205 € / 12.6.-12.6. 339 € / 19.6.-2.7. 260 € / 3.7.-9.7. 360 € / 10.7. 161 € / 17.7. 183 € / 24.7.-27.8. 128 € / 28.8.-11.9. 134 € / 18.9.-2.10. 103 € 9.10.-18.12. 59 €
Allegro timetable 29.3 – 26.10.2020
07:20 Helsinki – 10:47 St.Petersburg
15:30 St.Petersburg – 18:57 Helsinki
All the times are local. Allegro tickets can be booked and confirmed 90 days before the departure.
Day 1
Departure from Helsinki to St.Petersburg with Allegro train.
Our guide and the bus are waiting for you at the railway station and on the way to your hotel there is a panorama sightseeing tour of the city. During the tour you can see all the main sights and get the feeling of this huge city. At the end of the tour you will arrive to your hotel in time for the check-in. Straight after the panorama tour you can take part to our optional excursion The Treasures of The Hermitage.
Optional excursions:
The Treasures of The Hermitage 55€ / person
Children under 12yrs 41€ / person
We will visit the huge art museum The Hermitage with a Finnish speaking guide. The bus will take you back to your hotel, or alternatively you can stay in The Hermitage or in the city centre by yourself. The duration of the excursion is approximately three hours (incl. transfers).
---
Russia St Petersburg Hermitage Museum
The State Hermitage Museum
is the second-largest art museum in the world, it was founded in 1764 when Empress Catherine the Great acquired an impressive collection of paintings from the Berlin merchant Johann Ernst Gotzkowsky.
Its collections, of which only a small part is on permanent display, comprise over three million items including the largest collection of paintings in the world. The collections occupy a large complex of six historic buildings along Palace Embankment, including the Winter Palace, a former residence of Russian emperors. Apart from them, the Menshikov Palace, Museum of Porcelain, Storage Facility at Staraya Derevnya, and the eastern wing of the General Staff Building are also part of the museum. The museum has several exhibition centers abroad. The Hermitage is a federal state property.
Of the six buildings in the main museum complex, five -namely the Winter Palace, Small Hermitage, Old Hermitage, New Hermitage, and Hermitage Theatre – are open to the public.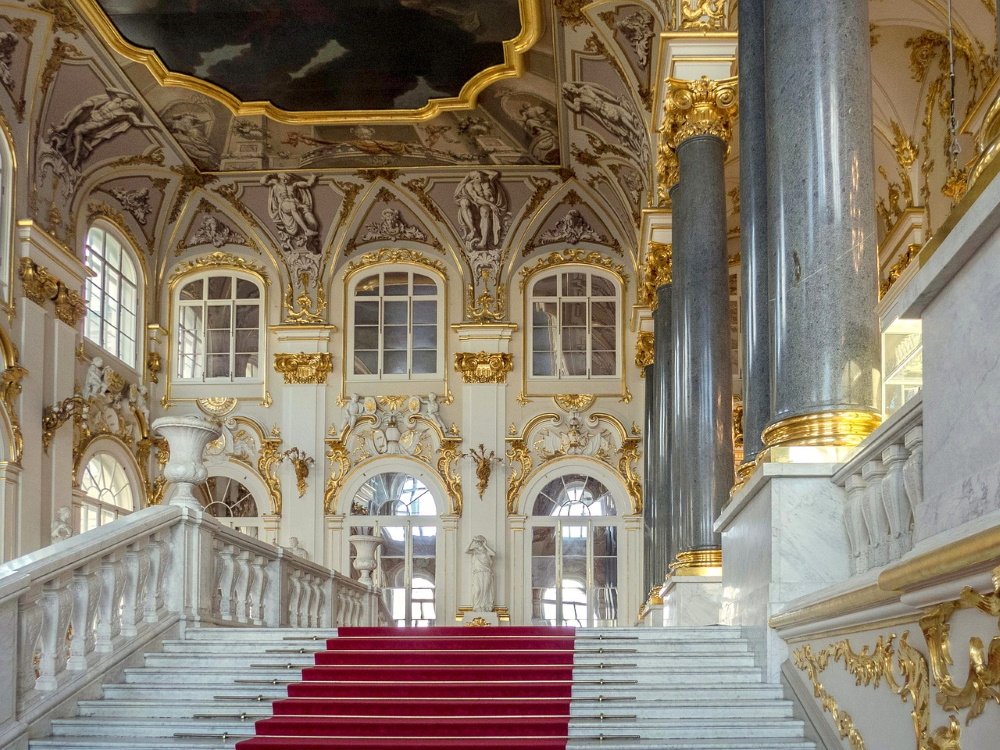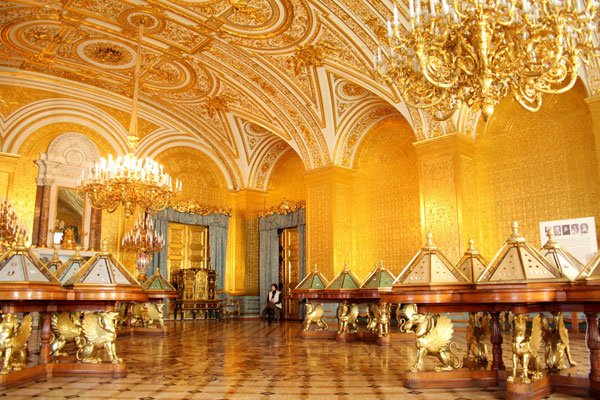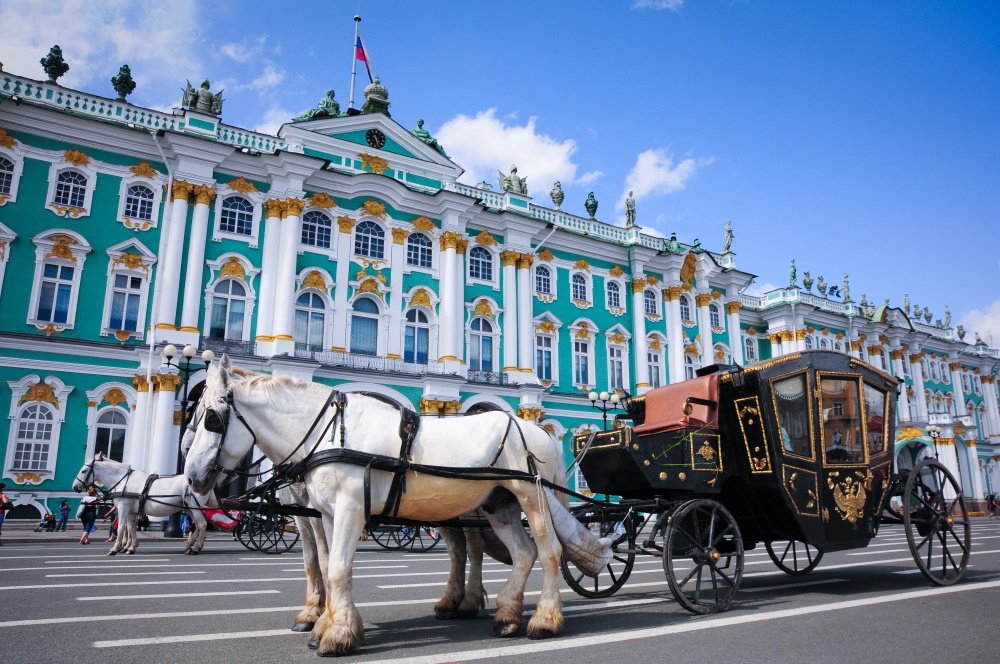 Day 2
Breakfast at the hotel
Optional excursions 14.5-30.9:
Peterhof Palace and Gardens 125€ / person
Child under 12yrs 99€ / person
We will depart the hotel after breakfast towards the Peterhof Palace, which was the summer residence of the Russian monarchs. You will see the lovely palace and the gardens as well as the golden fountains of this imperial residence. We will return to the city centre with hydrofoil along the river Neva. You can either return to your hotel with our bus or stay in the centre.
Optional excursion 14.5-30.9 :
Canal Cruise 30€ / person
Child under 12yrs 25€/person
Independent excursion to see St.Petersburg from totally different perspective. Board a canal cruise by the Anichkov bridge at Nevsky prospect and spend about an hour crusing along many canals of the 'Venice of North'. There is an English commentary available at te boat and you will see many fabulous palaces and gardens, as well as The Hermitage, Peter & Paul Fortress, Kunstkamera and Palace Bridge.
Optional excursions 1.1-14.5 and 1.10-17.12:
Tsarskoye Selo and Catherine Palace 125€ / person
Children under 12yrs 99€ / person
We will depart the hotel after breakfast towards Tsarkoye Selo and Catherine Palace, where we will visit the palace and its magnificent amber room. Duration of the excursion is approximately five hours (incl. transfers).
---
Russia St Petersburg Petrodvorets
Petrodvorets is the best known suburbs of St. Petersburg.
This gem of Russian 18-19 century architecture used to be the favourite and most beautiful summer residence of the Royal family. The world-famous palace, fountain and park ensemble of Petrodvorets is an outstanding landmark that witnessed huge stratum of Russian history.
The Lower Park is an ideal place for walking. Not only will you amaze at various fountains of different sizes and shapes but also learn the symbolic motive of each sculpture complex. You get stunned at the view to the Great Palace and the Fountains Cascade from the gulf of Finland.
During the tour you will visit the Great Palace which is structural center of the Upper Gardens and the Lower Park. You will enjoy its spacious and airy rooms adorned with rich moldings, splendid parquet flooring, exquisite carving, painted ceilings and canvases by great masters.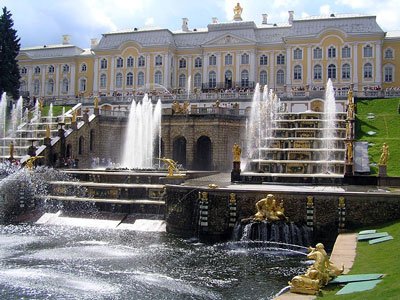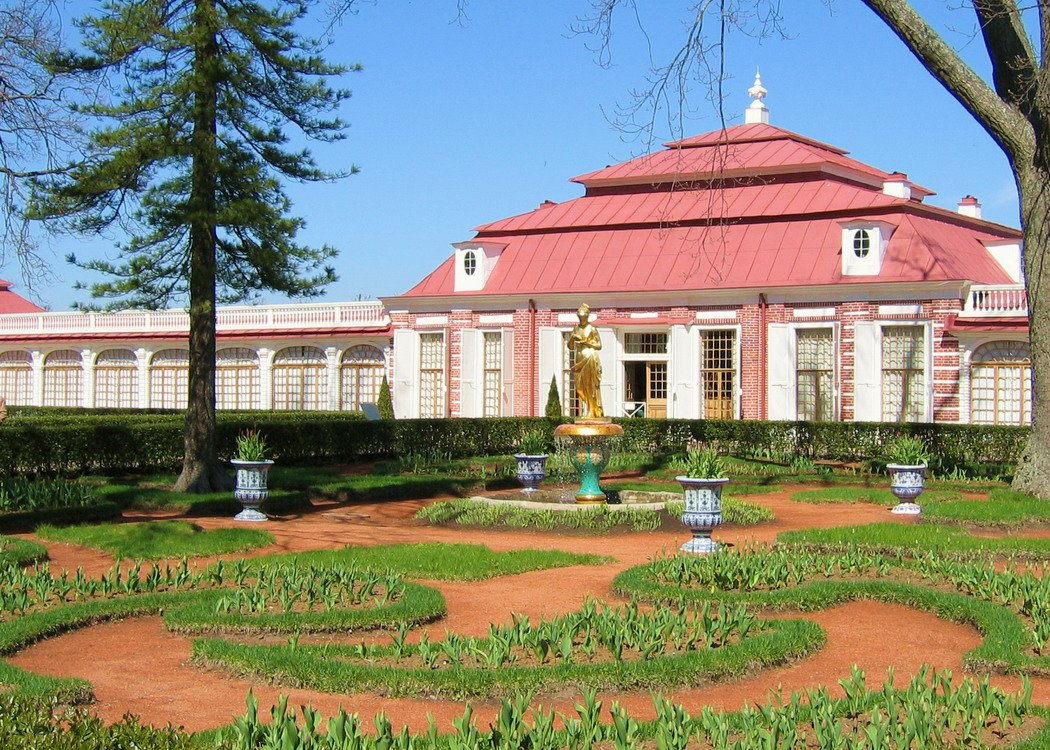 Day 3
Breakfast at the hotel, check-out at 12.00.
Optional excursions:
At the footsteps of Peter the Great 65 € / person
Children under 12yrs 60€ / person
We will depart the hotel around 10.30 for the trip (you may take your luggage to the bus). We will travel to the Peter & Paul Fortress, the birth place of the city, where we do a walking tour and visit the Peter and Paul Cathedral, which is the final resting place of the Russian Czars. Later we are transfered to the St.Isaac's Cathedral. Duration of the excursion is approximately three hours (incl. transfers).
If you do not wish to take part to the excursion, you can leave your luggage to the hotel luggage room and spend some time in the city. The transfer back to the railway station leaves from the hotel.
---
Russia St Petersburg Peter & Paul Fortress
The first structure to be built in St. Petersburg, and thus the birthplace of the city, it never served its intended defensive function. Instead it has had a rich, hugely varied, and sometimes sinister history as a military base, a home of government departments, the burial ground of the Russian Imperial family, the site of groundbreaking scientific experiments, and a forbidding jail that held some of Russia's most prominent political prisoners.
Today, the Peter and Paul Fortress is for the most part under the auspices of the St. Petersburg Museum of History, with a number of permanent and temporary exhibitions charting the various aspects of the compound's past. While the central visitor attraction is undoubtedly the Peter and Paul Cathedral, one of St. Petersburg's most striking buildings.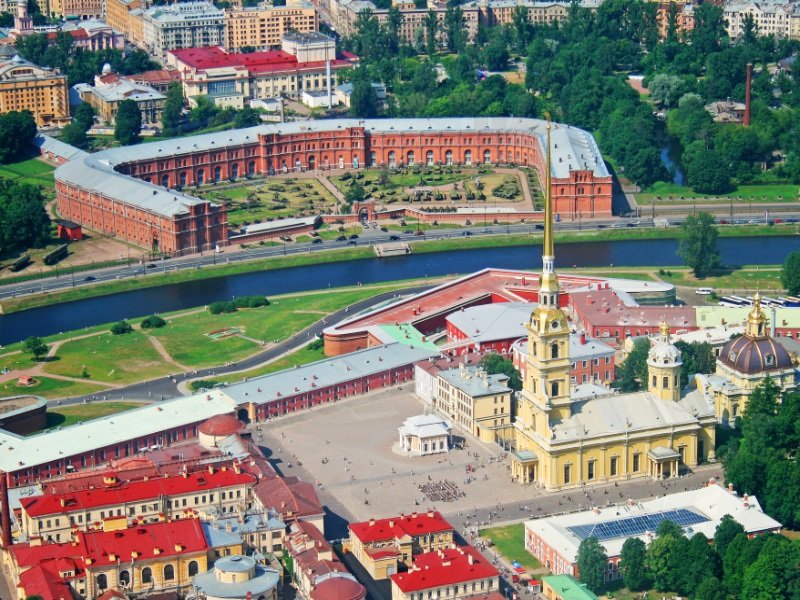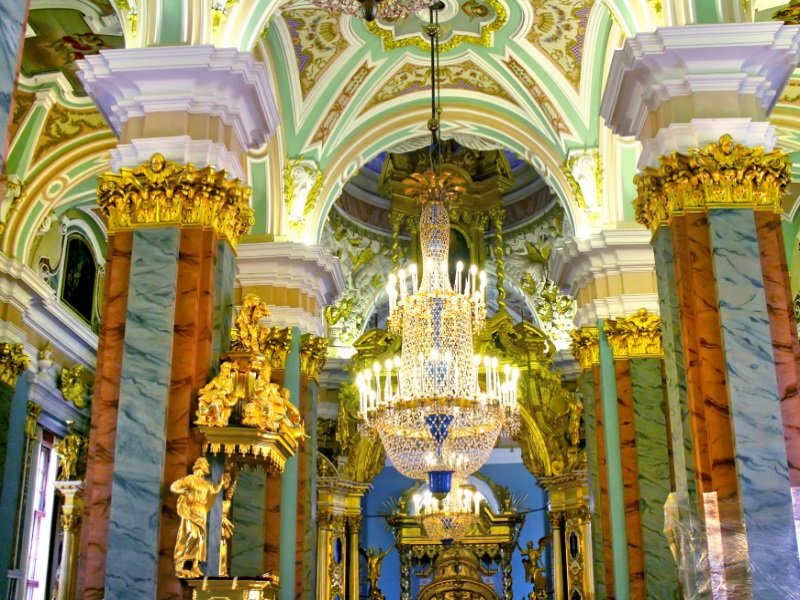 ---
Russia St Petersburg St. Isaac's Cathedral
St. Isaac's Cathedral was originally the city's main church and the largest cathedral in Russia. It was built between 1818 and 1858, by the French-born architect Auguste Montferrand, to be one of the most impressive landmarks of the Russian Imperial capital. One hundred and eighty years later the gilded dome of St. Isaac's still dominates the skyline of St. Petersburg. Although the cathedral is considerably smaller than the newly rebuilt Church of Christ the Savior in Moscow, it boasts much more impressive fades and interiors.
The cathedral's facades are decorated with sculptures and massive granite columns (made of single pieces of red granite), while the interior is adorned with incredibly detailed mosaic icons, paintings and columns made of malachite and lapis lazuli. A large, brightly colored stained glass window of the "Resurrected Christ" takes pride of place inside the main altar. The church, designed to accommodate 14,000 standing worshipers, was closed in the early 1930s and reopened as a museum. Today, church services are held here only on major ecclesiastical occasions.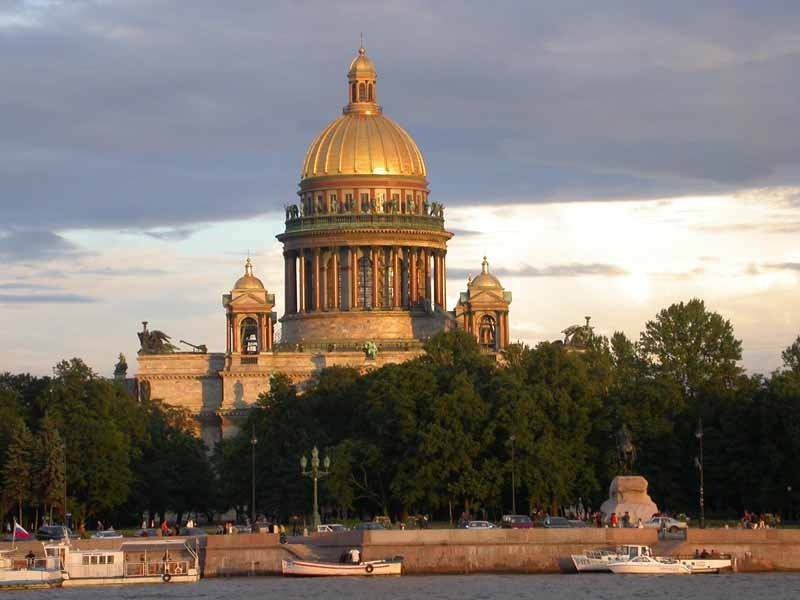 All of our excursions needs to be booked in advance, no later than 2 weeks before the departure. Minimum six participants are required to complete the excursions.
Russia St.Petersburg Hotel Dostoevsky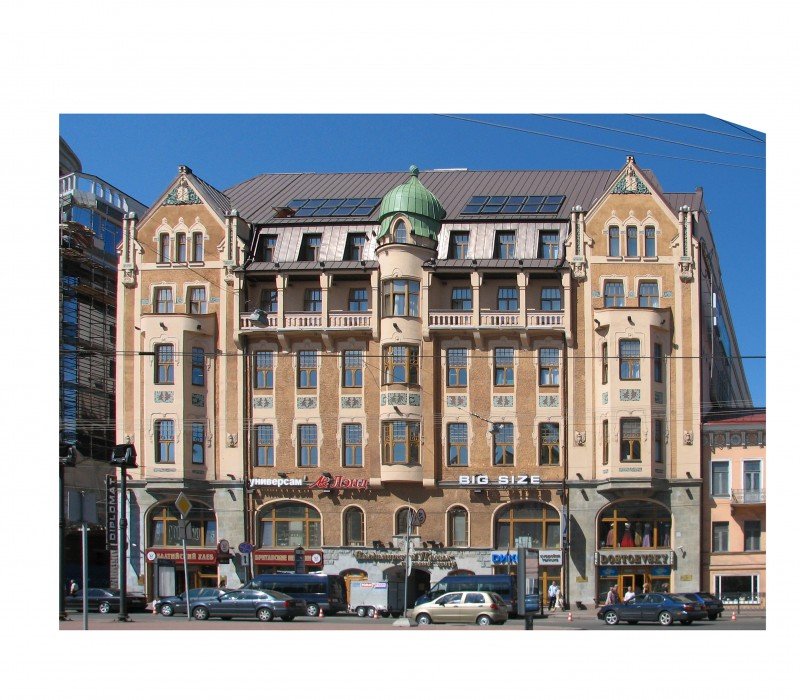 The 4-star Hotel Dostoevsky has a fantastic location, close to the Vladimirsky Passage shopping centre, Nevsky Prospekt and it is located within walking distance of many major sights.
Lue lisää
Russia St.Petersburg Catherine Art Hotel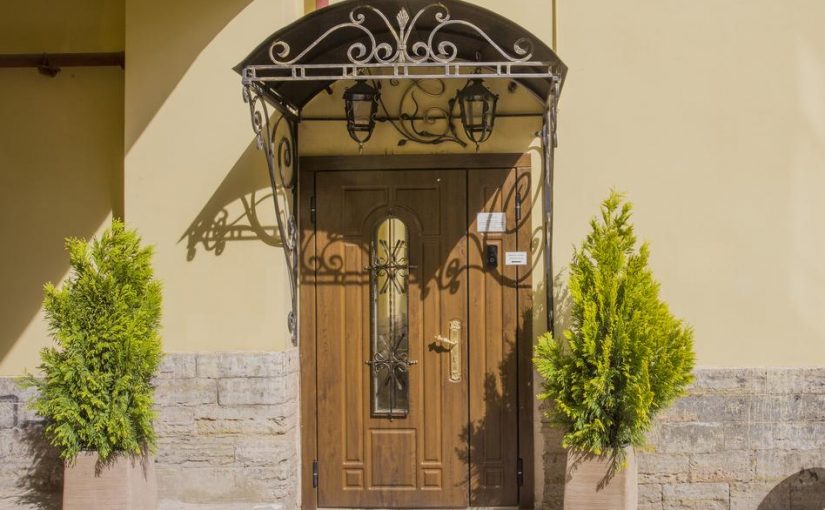 Catherine Art Hotel is ideally located in the Tsentralny district of Saint Petersburg; 500 m from State Russian Museum and 1.6 km from Palace Square.
Lue lisää
Russia is know for its imperial history and palaces as well as for it's position as a world power. It has recently raised it's profile as a tourist destination with plenty to see.
Capital: Moscow
St.Petersburg is a city of around 5 million inhabitants and it is the cultural capital of the country with countless museums and galleries, the most famous being The Hermitage. It also has many beautiful canals, churches and interesting sights as well as affordable restaurants and shopping.
Official language: Russian
Currency: Rouble
Passport and visa: Most foreign citizens need a visa to enter Russia. Passport needs to be valid for 6 months after the departure in most cases. Please contact our office for details.
Included in the price:
* Return journey (2nd class) with Allegro train Helsinki – St.Peterburg – Helsinki
* Transport in St.Petersburg railway station – hotel – railway station
* Guided panorama tour in  English with local expert guides
* Accommodation in Hotel Dostojevsky or Catherine Art  double room
* Breakfasts in the hotel
* Hotel registration fee
For additional fee:
* Russian visa
* Optional excursions

Childfare
Please check the childfare (under 12yrs old) from our office.
Visa to Russia
When making a trip to St. Petersburg you need a visa. It is advisable to reserve about a month for the process, but normally it can be speeded up for a surcharge.
To apply for a tourist visa to Russia, you need:
– A valid passport that must remain valid for a period of six months beyond the foreseen date of return. The passport must be intact.
– 1 passport photo (colour photo), measuring 3 x 4 cm.
– A duly completed and signed visa application form.
– Endorsement of the visa application that can be provided by the travel agency for a fee.
– Travel insurance certificate for a visa to Russia (to be ordered from an insurance company). The certificate can also be obtained for you by the travel agency for a fee.
When you file your visa application directly with the Russian Embassy, you need an endorsement from the hotel. You can obtain the endorsement from us. (in English). Additionally, all travellers to Russia are required to pay a statutory 200 rouble (approx. € 6) registration fee in cash to the hotel.
For more details, contact the Embassy of the Russian Federation in your home countrry.